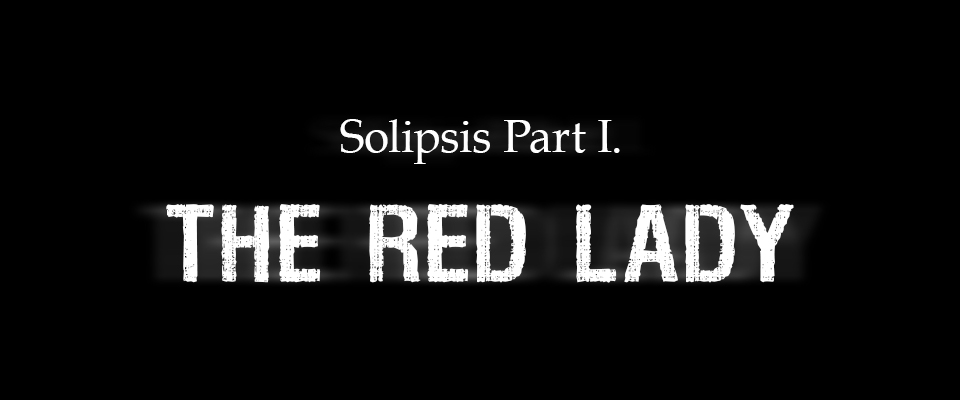 Solipsis Part I. The Red Lady
Strangers awake beneath an ancient tree. The era is unknown. They hold no memories—only visions of a beautiful, terrifying woman: The Red Lady. Each is consumed with their own singular, jealous yearning to find her.

They set out as allies in circumstance. Pulled along by strings of fate, they are hounded by The Enemy: cruel, relentless monsters in the shapes of humans, and other beasts.

In the end, they reach The Red Lady. Alliances dissolve and friends become enemies in time. One passes beyond to meet her.

All fall.
The Red Lady is a surreal horror roleplaying game about doomed souls moving through a dreamlike world in pursuit of the otherworldly figure that haunts them.
Its mechanics are simple: Players make checks with skills and item dice, ranging from d4 to d12. The higher the result, the more powerful the success. However, every action brings you closer to destruction—with every use, your skills and items degrade, and every attempt is more risky than the last.

Players are defined by their Memory, Yearning, and Gift. Memories are the brief flashes of visions they experience of The Red Lady. Yearnings are the desires that pull them inexorably towards Her, be they out of love, hate, or to answer an unspeakable question. Gifts are the expression of Her touch on the Players' souls, giving them monstrous powers of their own.

The Red Lady is designed to be finished in one session. That one session will be replayed infinitely.

The Red Lady is a play about obsession, betrayal, paranoia, longing, and the things our minds whisper to us.
The Players move through the world, facing monsters and meeting uneasy allies. They study their companions for hints of betrayal, and plot to do the same. In the end, they have one final confrontation.

The play consists of three acts, two intermissions, and a final scene. The script provides prompts, and guides the Players from beginning to end. The Players make each rendition their own through their actions.
The setting and characters can change with each performance, but its heart remains the same. As symbols return and patterns emerge, the play reveals its meaning with repeat tellings.

The Red Lady is a dream—what its message is, no one can say. Even when you speak its contents aloud to others, it happens only to you.
Although you'll have it every night, it will never mean anything at all.
Created by Brock McCord and Michelle MX.

Solipsis Part I. The Red Lady is based on Breathless, product of Fari RPGs, developed and authored by René-Pier Deshaies-Gélinas, and licensed for our use under the Creative Commons Attribution 4.0 License.
Purchase
In order to download this game you must purchase it at or above the minimum price of $5 USD. You will get access to the following files:
Solipsis Part I. The Red Lady.pdf
15 MB
Community Copies
Support this game at or above a special price point to receive something exclusive.
Community Copy
Free, no questions asked. If you take one, please consider leaving a review or suggesting the game to others. Both are greatly appreciated.

Purchases will contribute to future community copies.
Download demo